www.supplyrisk.com
Conservation Strategies for GE Healthcare's Iodinated Contrast Media Shortage
KEY POINTS
Severe shortage of GE Healthcare iodinated contrast media
GE estimates shortage to last until end of June
Healthcare providers shared conservation strategies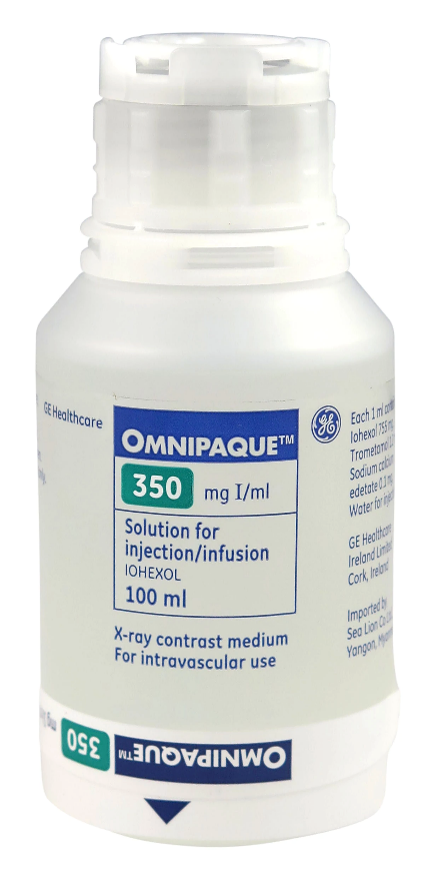 Healthcare providers shared their conservation strategies for the shortage of iodinated contrast media due to the GE Healthcare production disruption.
A severe shortage of GE Healthcare's iodinated contrast media branded as Omnipaque (iohexol) is impacting patient treatment across the USA. The shortage is due to the temporary lockdown of a GE Healthcare production facility located in Shanghai, China. GE Healthcare. Lost production time has created an 80% supply reduction. Although the facility has since reopened, the temporary lockdown caused a shortage of this critical product. GE Healthcare expects "supply relief by the end of June 2022."
Healthcare providers are sharing conservation strategies. The Greater New York Hospital Association recommends:
Seek other means of securing contrast media including alternate wholesalers and distributors
Evaluate incoming CT and x-ray orders to determine if an alternate imaging modality can be utilized
Discuss protocol options with radiology leadership, radiology staff, and ordering physicians including Emergency Department physicians, cardiologists, and outpatient imaging providers to ensure protocols are evaluated for the appropriate use of contrast media
Where appropriate, consider adjusting scanning protocols to scan without contrast and injector protocols to reduce the amount of contrast dose
Communicate opportunities for conservation and awareness of wasted contrast media to CT, x-ray, interventional, and catheterization lab technologists
Develop a communication plan for referring physicians and all imaging departments; leverage appropriate use criteria for when to utilize contrast-based CT examinations
Here are conservation strategies shared by healthcare providers at a recent meeting of the AHA Supply Chain Council:
Our hospital is now rationing IV contrast for only the absolute necessary studies. Abdominal pain, etc. are all non contrast studies.
We're scanning most things noncontrast when feasible.
There are many alternatives like Optiray – so hopefully your hospital system can source a reasonable alternative.
Ration contrast (not necessary but used for many studies), use alternative contrast agents, use MRA or US etc. As clinicians we can help identify alternative procurement sources, and be creative about workarounds.
We're using Solutrast only when it comes to iodine contrast agents.
I have not noticed any issues with iohexol, iodixanol or diatrizoate meglumine (gastrografin).
Assess use/reordering the older ionic iodinated contrast agents instead of the (now) standard nonionic forms given the waves of shortages we keep having. The ionic agents are still manufactured and could theoretically be used as a stop-gap. Drawbacks would be more minor reactions of course but it could ensure you have a supply of contrast to use in an emergency situation.
Norway is trying to pick up some of the slack but is not able to keep up with demand and logistics have been an issue as well
I work for university of Maryland they are rationing our contrast to 75 mls per scan for the past week.
Per one organization, GE anticipates a return to normal production/distribution by mid-June
We are postponing all currently scheduled outpatient CT scans and have suspended scheduling of outpatient CT scans.
Reviewing orders and switching to non-CT modality when appropriate, e.g. MRI or ultrasound.
Scrutinizing orders and switching to CT without contrast when/where appropriate.
Diluting contrast when appropriate.
GE Healthcare recommends the following measures:
Evaluate your amount of on-hand inventory immediately;
Communicate to pharmacy, radiology, cardiology, emergency, trauma, operating room, oncology and outpatient imaging leaders the critical nature of this disruption and evaluate the potential of alternative imaging modalities where appropriate;
Adjust scanning protocols to scan without contrast or adjust injector protocols to reduce the amount of contrast dose, where appropriate;
Inform technologists in computerized tomography, X-ray, interventional and catheterization laboratory of opportunities to conserve contrast media; and
Seek alternative means of securing contrast media.
"the GE Healthcare production facility for iodinated contrast media in Shanghai experienced an
unexpected, temporary shutdown… We expect supply relief by the end of June 2022." – Greg Eppink,
General Manager, US Contrast Media
For more information, see:
Greater New York Hospital Association, GE Contrast Media Shortage and Conservation Strategies, May 4, 2022